EDIT MAIN
Pleasant Hope High School
Check this Out...
New Pirate/Lady Pirate Athletics Website!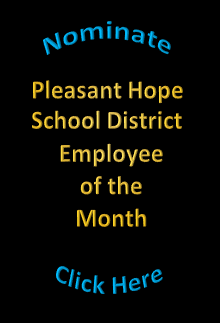 High School news

Mr. Brent Offerdahl - Principal

Email: bofferdahl@phr6.org

Phone: 417-267-2271

We are now 35 days into our school year. The High School has been off to a great year rebranding our school with the Pirate Nation theme across all of our activities. If you want to get in on promoting our high school we still have "Pirate Nation" t-shirts available for people in lots of various sizes.

A major goal of the high school is to have the students of Pleasant Hope learn to take responsibility for their actions, and hold themselves accountable for the results that they will see as a result of their work ethic. I have always stressed that hard work and perseverance are two of the best qualities that a person can possess. In order for students to gain these skills, we have to allow them to have responsibility to accomplish goals and then learn from their mistakes if the final product does not turn out like they wanted. We have made a concerted effort this year to have all of our assemblies be student led for the most part. When you give young people the opportunity to show what they can do, often times you will be impressed by the learning and leadership qualities you will see emerge from our students at Pleasant Hope. I must say I have seen some students step up and do some amazing things this year in changing the culture of Pleasant Hope High School. Congrats to our students in raising the bar of expectation for themselves and their school.

As we come to the conclusion of our first nine weeks of the first semester, I want to remind all parents that we will have parent/teacher conferences for all high school students on Oct. 18th from 2:00 pm until 8:00 pm in the High School Gymnasium. This is the best opportunity for us as a learning community of parents, teachers, students, and administrators to come together to best meet the needs of every child in our school. I strongly encourage you to reserve time in your afternoon or evening to come out and visit with your child's teachers on Oct. 18th.

We will also be having a district planning meeting on the evening of Oct. 16th to set short and long term goals for the district.

PH High School
2016-17 PHHS Yearbooks

Order your 2016-17 High School Yearbook Here

Contact Info

Pleasant Hope High School
Mr. Brent Offerdahl, Principal
303 N. Main St.
Pleasant Hope, MO 65725
Ph: 417-267-2271